RAISED BEDS RAISING SPIRITS

The Board of Management, the Management Team and myself want to express our gratitude for the effort you are putting into your work under the most trying of circumstances.
NWSS have always been acknowledged for personalised, high quality support and we are continuing to keep this up as we adjust, hour by hour, to the virus outbreak.
The management team is working constantly, by the hour, on a twenty-four seven commitment to adjust to every change as it happens.
The best you can do for yourselves, your families and our clients is to rigorously practice all of the protective measures. In the workplace, remind each other constantly to stick to the protective measures – Distance — Cleanliness — Hand sanitising.
The business community is trying to brace itself against closures and loss of jobs.  We are, on the other hand, an essential service that will be funded to keep working.  We have an exemption from the isolation restrictions that allow our workers to move between work and home.  Adhering to the social isolation rules when in the community is the best hope for keeping the virus at bay for you, your families and for the clients you support. 
The opening page of our website now carries constant updates on how we are managing the situation.
We are planning towards recovery.  The management team and I are using some of the time gained from social isolation for back room work in preparation for our re-emergence as one of the main service providers in the North West Region of Tasmania.  Other work behind the scenes includes formalising our Life Enrichment Program that will lead us back out into the community again.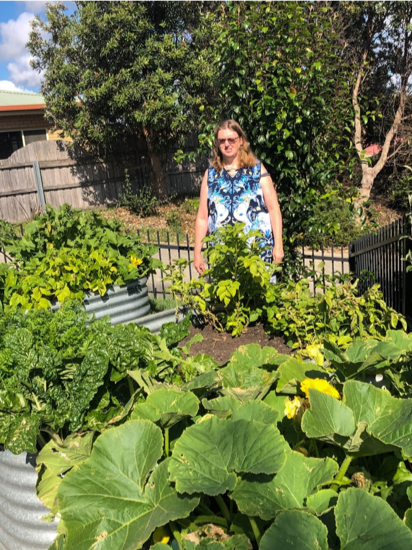 There are always some good stories that emerge from adversity and we will be telling these in our website updates.
Who would have thought that a nice little activity a few months ago would become a new insurance policy? Over the last couple of years, we have distributed more than fifty free raised garden beds to shared homes and clients living in their own homes. All of the beds we have sponsored are producing food.
Pam House, under the guidance of our gardener, Bruce Hay, started her garden at the beginning of the summer last year.  She is now adding tomatoes, potatoes, beans, carrots, zucchinis and herbs to her daily meals.

As part of its life enrichment program, NWSS will give free raised beds to clients who would like to grow some of their own food